As part of a custom project, we created an attractive and fully mobile website for Apartament's Józefina. The new website is designed to provide an easy way to check availability, make an online reservation, check the latest promotions and get some information about the property.
Appropriate and effective placement of "Call to Action" buttons
Clear presentation of the key property features, local attractions and location allows guests to make up their mind quicker and successfully book holidays. The button "See more" directs visitors to a special page with the offer overview, where they can choose and rent an apartment that meets their needs. At this point, it only takes a couple of clicks to book accommodation.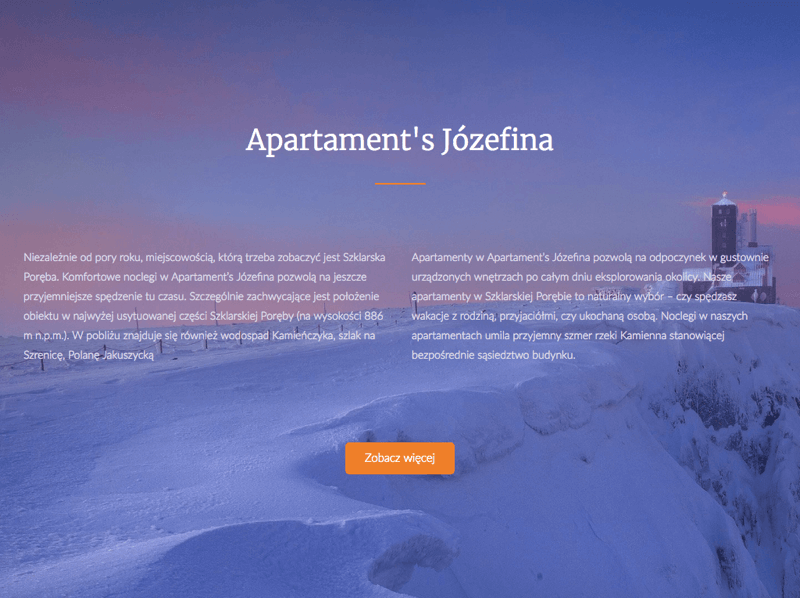 Well-designed section with special offers
Who doesn't like special offers? I guess the correct answer is "nobody". On the website of Apartament's Józefina, you always have easy access to current promotions which work like a magnet for all those looking for a real bargain. There's a special section displaying three current promotional offers which everybody can book directly on the website.
Clear presentation of amenities and key features of the property
More often than not, guests want to know what facilities are available at the property before they decide to make a booking. On the Apartament's Józefina website, all information about facilities are presented in the form of a very clear and readable graphics, allowing potential guests to quickly find and review all main advantages of accommodation they want to book. This form of presentation and easy access to information makes guests see what they can gain and increases the chance of conversion.
Easy access to the property map and contact information
It's crucial to provide quick access to location of your apartments, preferably in the form of GPS locations, which can be easily copied and allow to immediately plan the trip. In case of any questions, contact details and bank account information can be easily found on the main page. All information presented this way on your website increase the likelihood getting direct reservations.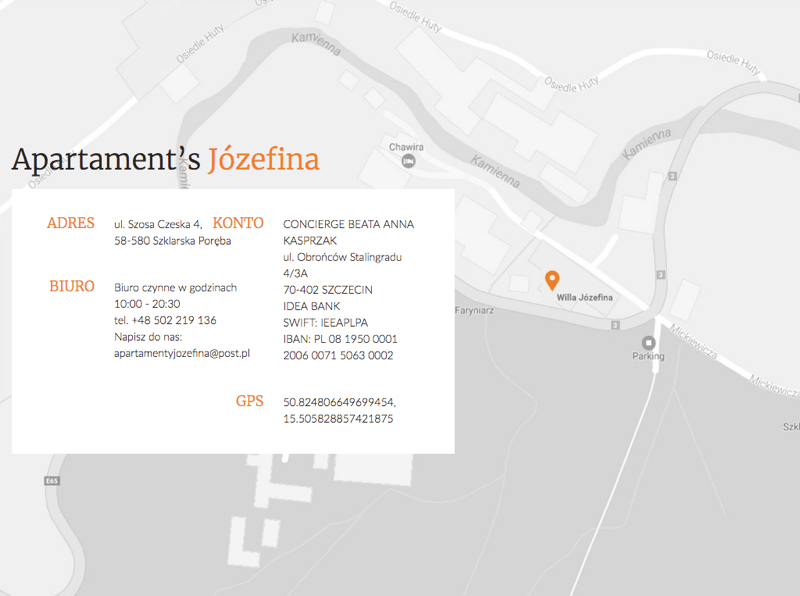 Apartament's Józefina manages their new, responsive and functional website in the intuitive IdoSell CMS panel . In IdoSell, regardless of whether you use the free template or decide to order a custom website project, you can use the CMS embedded in the admin panel. Thanks to the CMS, you can easily edit content, add banners, or use various widgets. "I am very pleased with the capabilities of the CMS. So far, most of the information included on my new website, created with IdoSell, simply did not exist on the former one. The intuitive panel to edit my website's content was a big step forward." - says the owner of Apartament's Józefina, Beata Kasprzak.
A very popular feature used by the property owners are rate plans. Each property can freely manage their rates and easily set discounts/markups depending on the length of stay or other criteria. Beata Kasprzak describes how she uses the rate plans to manage her apartments: "We use manually managed rate plans and apply discounts based on the current situation on the market and plan special offers for the future. It is a very useful sales tool."
Interview with Beata Kasprzak, the owner of Apartament's Józefina
IdoSell: You manage rental of 17 apartments and a house. Do you have any specific target groups of guests? Who are they? Do you have more short-term or long-term bookers?
Beata Kasprzak: Most of our guests are couples, groups of friends and families. Shor-term reservations are the most frequent ones.
IdoBooking: Your website is available in 2 language versions. How does this functionality translate into reservations made by foreign clients? Which nations are the most frequent visitors?
Beata Kasprzak: We host international visitors, i. e. form Czech Republic, Netherlands, Germany and France. Most often, they are Germans.
IdoBooking: Modern accommodation rental is based on adapting to the preferences of your clients who tend to make reservations in various OTAs. Which Channel Manager integrations do you use and how does this tool improve your property management? Are there any channels which you'd like to connect with but are less significant for your business?
Beata Kasprzak: Our website, integrated with Channel Manager, allows us to securely take reservations from external sources. At the moment, we're connected with a couple of OTAs, but we'll gradually extend our offer.
IdoBooking: What kind of marketing actions do you take to attract more guests?
Beata Kasprzak: We're constantly developing and slowly begin to use the marketing tools available in Social Media. We try to keep track of the latest trends in the management of small business. We think about a newsletter and blog. Some tools are beyond our budget for the time being.
IdoBooking: What are your plans for the near future?
Beata Kasprzak: We have a couple of ideas. We want to add more language versions, like German and Czech and a payment terminal. New opportunities occur daily. We follow them and if they are beneficial for us, we try to learn them and implement in our work.
Ask us about IdoBooking
Test IdoBooking for 30 days for free
See more implementations and reviews