IdoBooking Channel Manager eliminated errors and limited misunderstandings with guests. It imposed discipline in terms of updating reservation details and communication with customers. Five years ago, we used pen and paper to mange all reservations. It brought on mistakes and confusion. Guests often used our mistakes to their benefit, especially in case of telephone reservations. After adding our offer to online travel agencies, we were not able to keep track of updating availability fast enough – says Mr Edward Trzosek the owner of Perła Krutyni. Now, it's a completely different story. We introduce the story of another resort which has developed thanks to IdoBooking.
OV SUPERIOR YEAR-ROUND COTTAGE - offer details in the Perła Krutyni Booking Engine
For quite some time, Perła Krutyni has been building its business on the IdoBooking. The property consists of summer houses and a campsite. Altogether, the property can accommodate over 150 guests. It poses a major logistic challenge for the personnel.
Talk to us about IdoBooking
There is an online booking calendar on our website, thanks to which most of our guests can make reservations on their own – say Mr Trzosek. To meet the ever-growing expectations of the market, Perła Krutyni uses Channel Managera which enables a real-time availability updates across various OTA, i.e. Booking.com, eholiday.pl and others.

Test IdoBooking for 30 days
In everyday work, IdoBooking lets us to keep track of all payments made by our guests. Sending automatic e-mail notifications and payment reminders have become the basic form of our communication with clients. Our guests can make instant payments via IdoPay and PayPal, which in turn, allows for quicker and more effective booking management – adds the resort owner.
It's worth mentioning that thanks to the Facebook integration, Mr Trzosek can reach various customer groups with his offer. It translates into the growing number of reservations, especially from the Polish communities abroad. This is the reason why Perła Krutyni reaches and serves customers from Poland, the USA, Canada and Israel. Each year, we record more and more reservations due to multiple language versions available in our Booking Engine. Language used to be a big barrier for foreign guests. It's a lot better now.
Booking Engine on Facebook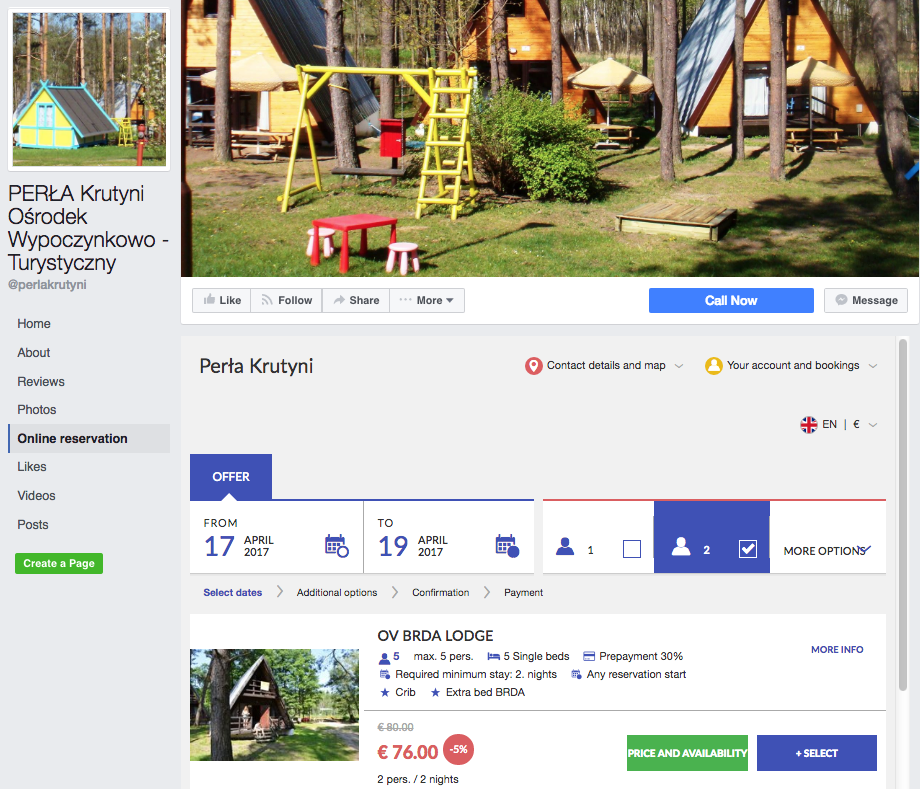 Talk to us about IdoBooking
Test IdoBooking for 30 days
Interview with Edward Trzosek – the owner of Perła Krutyni:

IdoBooking: You have a very interesting resort. What is your recipe for success?
Edward Trzosek: We have 5 types of summer houses – in total, 90 bed places and a campsite with place for caravans and motorhomes. Overall, the resort can accommodate over 150 people at once. It is accompanied by catering services – a bar, cafe and canteen. There are garden tables with seats near the houses allowing to prepare outdoor meals and evening barbecue. Our guests have a chance to rent water equipment and tourists bicycles. We offer canoeing trips across the Krutynia River and rent canoes and boats for anglers. We organize bonfires (with boar roasting on request), dance evenings, night canoeing trips with torches and a bonfire on the river. We do our best to maintain the unique atmosphere of the resort which was established 40 years ago. At the same time, we keep renovating and modernizing the interior of summer houses. We set up a campsite on the river banks with energy-supply points for caravans and tents. There is a sandy beach with loungers and umbrellas. The deck as been renovated in a way that makes it an attraction now. There are also a playground, a volleyball, basketball and badminton courts, swings and hammocks. This year, we built a stage and started preparing artistic events. Our offer is constantly being developed. The accommodation, leisure and entertainment facilities are being improved. Every year, the occupancy level at Perła Krutyni grows. We hope that we meet the expectations of our clients.
IdoBooking: Your resort is situated in a beautiful spot by the Krutynia River. Perła Krutyni (former Stanica Wodna PTTK) is one of the most amazing location on the Krutynia route. You have been providing accommodation services since 1976. The location between Mikołajki and Rucine Nida in the Mazurian Landscape Park is one of the most interesting places on the Mazurian Lakes map. What groups of guests visit you most frequently?
Edward Trzosek: The resort is an enclave among the nature reserves in the Pisz Forest. It borders with the Krutynia Dolna Reserve, Pierwos Reserve and of course with the Krutynia River, which is a natural reserve in itself. We have individual guests from Poland and Europe but there are also visitors from the USA, Canada or Israel. We have group reservations as well. They are organized company trips, i.e. employee team building with a lot of attractions; school trips; summer camps; church travelling groups; or trips organized by travel agencies. Some groups of families or friends come back every year. Weekend stays combined with canoeing trips, cycling tours and bonfires are very popular.
We serve a very important role of servicing travellers on the Krutynia River route.
We provide accommodation facilities, good sanitary conditions (showers with hot water), dishwashing area, fridges, dining facilities – a bar, cafe and canteen.
On the grounds, there are also volleyball, badminton and basketball courts, a separate space for bonfire and barbecue, a sandy beach, a deck on the river, a wading pool for children and a place for swimming.
Talk to us about IdoBooking
Test IdoBooking for 30 days