"At this moment, we cannot imagine running our business without IdoBooking — the system which allows us to manage all reservations. Our bookings come from several sources — Booking.com, Airbnb, Expedia.com and other OTAs. Thanks to IdoBooking, we don't have to concentrate on adding reservations manually and controlling the availability. The time which we save, we devote to more important issue, like acquiring new apartments to expand our offer."- says Przemysław Kacmajor, the owner of Apartamenty Białystok. We'd like to present the inspiring story of Apartamenty Białystok — the business which develops thanks to IdoBooking.
Apartamenty Białystok / Lipowa 47
Apartamenty Białystok is a big player in the local rental market and IdoBooking allows their owners to successfully run the business. It offers 23 comfortable apartments located in the center of Białystok and a villa with 28 rooms in standard of a hotel. Apartamenty Białystok manage multiple properties in one admin panel.
Ask us about IdoBooking
"In day-to-day work, IdoBooking gives us the ability to manage multiple apartments in different locations. We have an insight into the front desk, division of work and the booking calendar of each property. It greatly improves our daily work. We are aware that only continuous development and implementation of the most innovative technologies will allow us to manage multiple properties and compete on this demanding market."- says the owner of Apartamenty Białystok, Przemysław Kacmajor.
IdoBooking gives you endless set-up possibilities to flexibly fity it into your business model. Our solutions can be successfully applied in both smaller and larger properties — just like the ones managed by Przemysław Kacmajor.
"On our website, guests can swiftly and efficiently book apartments and rooms, just by clicking on the "Reserve online" button which opens up the Booking Engine. " - says the owner of Apartamenty Białystok.
With the Booking Engine properly embedded on the website, clients can quickly get familiar with the offer, and, above all, easily book accommodation online. You can select one of the available color themes to match the Booking Engine with the look-and-feel of your website.
Example of the Booking Engine used by Apartamenty Białystok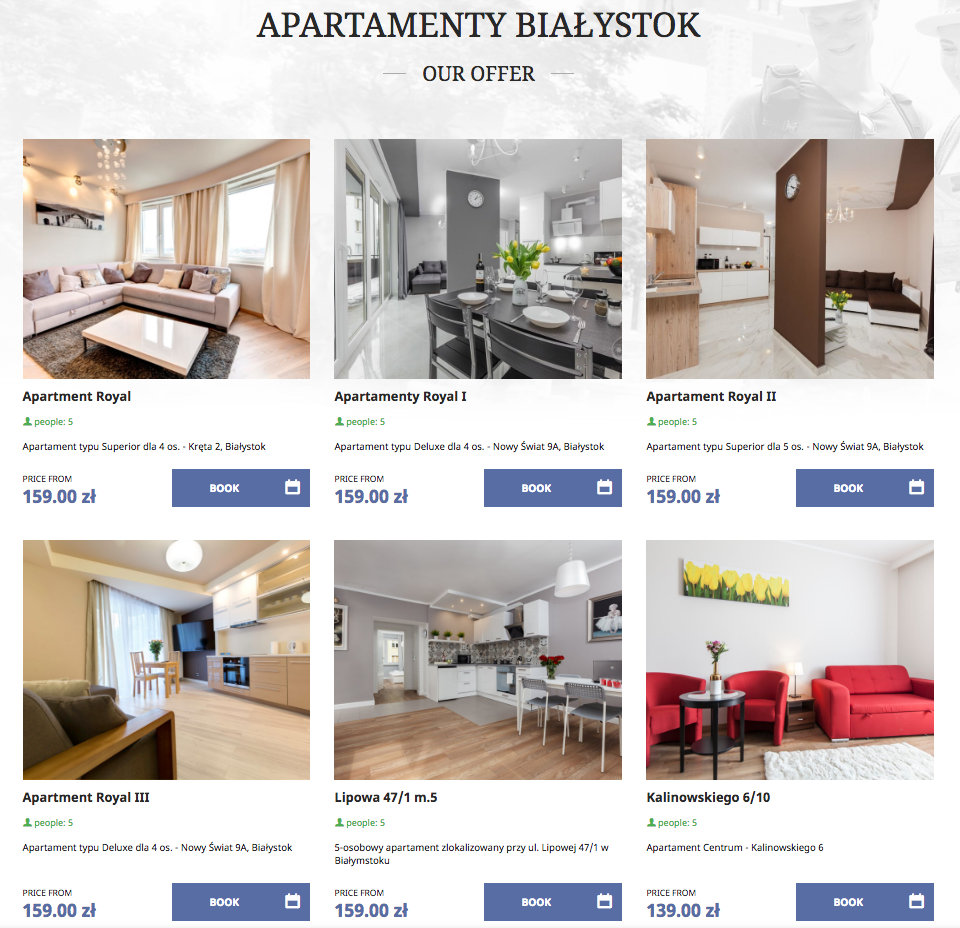 Modern accommodation rental, like the one conducted by Apartamenty Białystok, is based not only on providing secure and easy online booking solutions but also on adjusting to your guests' booking preferences, and, therefore, being present in their favourtie OTAs. Channel Manager allows Apartamenty Białystok to connect with many popular accommodation rental websites, such as Booking.com, Expedia.com or Airbnb. They can be present in various marketplaces and manage prices from just one admin panel.
"Our reservations come from several sources, so we use Channel Manager to exchange rates and availability between IdoBooking and online travel agencies, such as Booking.com,, Noclegowo.pl and others."- says the owner of Apartamenty Białystok - Przemysław Kacmajor.
Channel Manager integrations in Apartamenty Białystok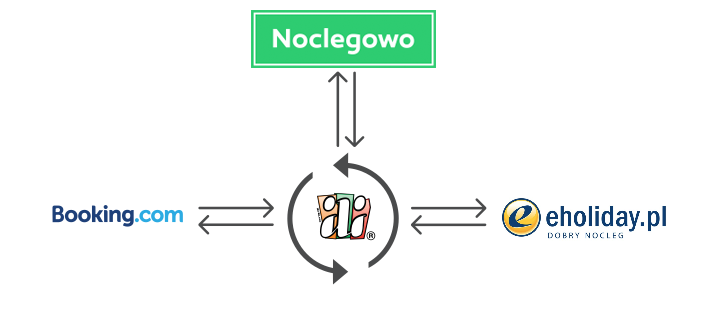 Test IdoBooking for 30 days for free

"We are also fully integrated with Facebook. This way, our guests can make bookings directly on the most popular social networking website. Our offer is addressed to different customer groups. More than half of our guests are from the Eastern Europe, and, therefore, we accept bookings in multiple currencies. "- says the owner of Apartamenty Białystok -
Przemysław Kacmajor.

Booking Engine on Facebook
See more case studies
Interview with the owner of Apartamenty Bialystok - Przemysław Kacmajor
IdoBooking: Your villa and apartments are located in various places in Białystok. How important is location when choosing an accommodation?
Przemysław Kacmajor: You can reach the villa on foot from the city center within 25 minutes. For majority of villa's guests, it isn't a problem. The price is probably the most convincing factor for bookers. At the same time, most of the apartments are located in the very center of the city, and guests staying there are often so picky that even a five-minute walk to Kosciuszko Square is too much for them. Our customers are so diverse that you can expect really everything. Ultimately, however, most guests are very pleased with the location of our properties.
IdoBooking: Do you remember the beginning of the business? How much has changed since then?
Przemysław Kacmajor: At the beginning, we rented and managed our properties via Booking.com and Airbnb. But it was very problematic and required us to constantly check availability and daily update the calendars, which consumed more and more time. After opening the villa, we realized that managing all reservations only via Excel spreadsheet wouldn't be enough any more.
IdoBooking: Apartments in multiple locations and guests from various parts of the world are the proof of a great recognition of your properties. What is the recipe for success in your industry?
Przemysław Kacmajor: I think that in the accommodation industry it is important to put the guest first. You have to do everything to make guests feel good and not only willingly come back next time, but also tell their friends about your properties in the meantime. When it comes to the business management, it is important to constantly develop and apply the most innovative systems to control such a number of properties. If you don't go forward, you go backward, and your competition never sleeps.
Ask us about IdoBooking
Test IdoBooking for 30 days for free
See more implementations and reviews